The Secret Garden Tour and Garden Market returns on Saturday, June 18, 2022
Image
Garden Market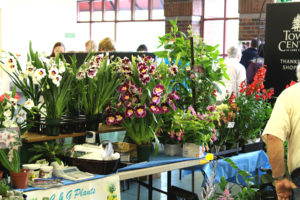 The Garden Market, formerly known as the "Plant Sale," features a dazzling array of plants for every garden and so much more! Shop for plants, flowers, and a beautiful assortment of garden art and creative endeavors that will bring personality and charm to your outdoor spaces (and maybe even your indoor ones as well).
The Garden Market is open from 9 AM to 3 PM on the lower level of the Lake Forest Park Town Center, 17171 Bothell Way NE, Lake Forest Park, 98155 (at the intersection of Bothell Way NE/SR-522 and Ballinger Way NE/SR-104).
Admission is free.
2022 vendor list will be updated in the spring. Past year vendors have included:
Art in Stone
C & G Plants
Flower Market
Four Cedars Studio
Garden Path Perennials
Mike's Mason Bees
Queen's Cup Nursery
Robyn's Nest/Mount Forest Farm
Rosehill Landscaping and Nursery
Non-profit information participants:
Lake Forest Park Stewardship Foundation
Northwest District Beekeeper Association
Interested in being a vendor at our Garden Market? See info at the bottom of this page.
Garden Tour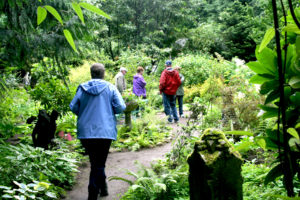 The annual Secret Gardens of Lake Forest Park Garden Tour features five or six beautiful, private gardens in the City of Lake Forest Park. Once a year, for one day only, these unique and often spectacular local gardens are opened to the public as part of this tour.
Purchase tickets in advance at local garden centers or online and exchange the advance ticket for a map of the six gardens on the date of the event in the lower level of Lake Forest Park Town Center. Same day tickets can be purchased in person there as well.
Ticket holders can visit the gardens in any order.
What you can look forward to in each garden:
Artists and musicians will work and perform at each garden. Master Gardeners will also be on hand in each garden to answer your gardening questions. Master Gardeners is a program of WSU.
Master Gardener volunteers teach local community members to:
Manage their gardens and landscapes in a science-based, sustainable manner;
Address environmental and social priorities such as water conservation and water quality protection;
Reduce the impact of invasive species; and
Increase public awareness of healthy living through gardening.
Master Gardeners also enhance communities through demonstration gardens and donation of produce to local food banks.
Tickets
Advance tickets are $15. Tickets will be available online starting early May:
PURCHASE TICKETS (Link will be activated when online tickets are available.)
In-person ticket outlets are still being confirmed. Tickets will likely be available beginning in May at the following outlets:
Tickets purchased in advance, whether online or at an outlet, must be exchanged on the day of the garden tour for maps to the gardens at the Secret Gardens check-in table.
Same day tickets can be purchased for $20 at the Secret Gardens check-in table.
The Secret Gardens check-in table is part of the Secret Garden Market located on the lower level of Lake Forest Park Town Center, 17171 Bothell Way NE, Lake Forest Park, 98155.
Vendor Registration
Date: Saturday, June 18, 2022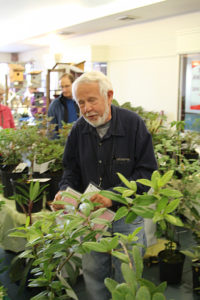 Time: 9am to 3pm
Set up between 7:30am and 8:45am
The Garden Market features:
Plants that should thrive in our local area
Garden art
If you are interested in participating in the Garden Market, please email vendors@lfpgardentour.com. You will be sent a registration form and other information regarding space specifications and fee.
Judging by the tremendous success of past Secret Gardens of Lake Forest Park, the Garden Market will be a lively place, bustling with plantaholics looking for just the right plant or object d'art.