LFP native / Shorecrest grad first novel to be published
Image
Join Kelsey Josund in celebrating the launch of her debut novel, Platformed, a dystopian sci-fi/cli-fi tale that paints a near-future on the precipice of climate catastrophe, and follows the journey of Sara, a displaced software engineer struggling to find her way in this strange new world where big tech is both friend and foe.
The night will include:
Live musical performance by Seattle-based singer-songwriter Tae Phoenix
Live reading from Platformed by Kelsey Josund
Audience Q & A with Kelsey following the reading
eBook Prizes & Giveaways
Support for Save The Redwoods League
Every $5 ticket attendee will receive a coupon code for a digital download of the ebook edition of Platformed (accessible before the book comes out on May 18, 2021). Those who opt to donate more will also be entered to win one of five signed copies of Platformed's hardcover first edition.
Tickets:  https://bit.ly/2RmBjmb
Your Support
Environmentalism and combating climate change is a cause near and dear to Kelsey's heart—and one she tackles both in her day-job (as a machine learning engineer at a climate change startup) and in her writing.
The themes of ecological and technological consciousness are at the core of Platformed—so what better way to celebrate her inaugural release than by raising money for an environmental cause close to her heart, and her home.
The proceeds from this event will support Kelsey's book launch—ensuring her story finds its readers where they are, and making free and low-cost copies available to audiences worldwide. This book launch will also support a donation to Save The Redwoods League, a nonprofit local to Kelsey's home in California that works to support the restoration of the redwood forests and the natural ecosystems that sustain them.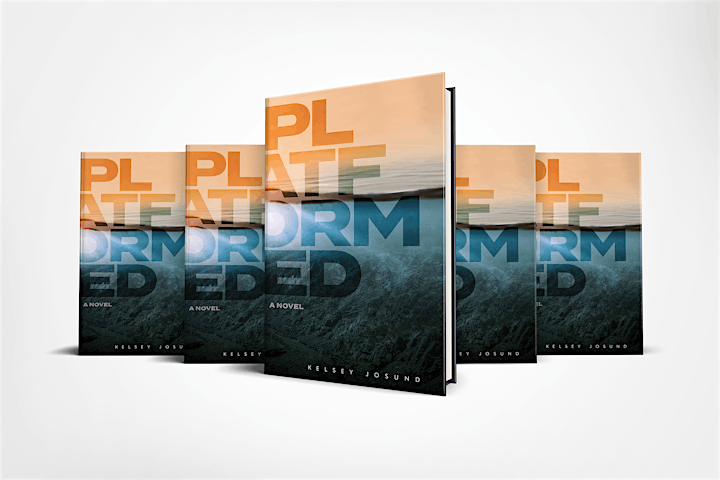 About Platformed
Silicon Valley in the 2030s is not so different from today, filled with vaguely sexist CEOs, contested inequality politics, and startups that are almost a joke.
After she loses her job when her startup folds and loses her home to California's annual wildfires, Sara joins the latest thing: an unnamed tech giant's quasi-utopian community, floating above the drowned land that was once Monterey.
Alone on the inside with a thousand mysteriously chosen strangers, Sara is insulated by an all-powerful corporation from the turmoil of crumbling governments and a changing climate. Everyone around her seems incredibly thankful, rescued from gig work and student loans and bad news, but she can't find her own gratitude.
As she learns more about her new home, she begins to see the cracks in its perfect facade. She must choose between surveillance and lies from the anonymous algorithms that protect her or face a vulnerable life outside the system to which she has signed away her next five years. Leaving, she learns, may not even be an option.
Here's what early reviewers are saying about Platformed!
"A postmodern story reminiscent of works by Kafka or Sartre." – J. F. Alexander, author of the theological sci-fi novel I Am Sophia
"Beautifully written and terrifying." – Susan Lee, former Silicon Valley journalist and winner of the Writers of the Future and World Fantasy Awards
"A very highly recommended story that will hit close to home for many sci-fi fans in a dystopian production designed to keep readers thinking and involved to the end." – D. Donovan, Senior Reviewer, Midwest Book Review
About Kelsey Josund
Kelsey Josund is a software engineer and author of sci-fi, cli-fi, fantasy, and new and young adult fiction, including a series of forthcoming feminist retellings of classic fairy tales.Originally from Seattle, Kelsey loves getting outdoors and living in places that allow her to escape to the mountains on the weekends. She cares deeply about the ecosystems that humans impact and that impact them in return. Her writing explores these themes through the prism of the traditional coming-of-age arcs of science fiction and fantasy. Kelsey is particularly interested in stories and characters that complicate the traditional and familiar, leading her to rediscover old tales from new and unexpected angles.
With a passion for storytelling in all its forms, Kelsey approaches writing fiction the same way she approaches writing code: she likes to know where it's going, but wants to figure out the details as she goes. She believes good software is a lot like a good story—full of neat and clever solutions to tricky problems, beautiful at a granular level but also from a distance.
Kelsey lives and works in Silicon Valley, California with her partner and their cat. She holds a bachelor's and master's degree in computer science from Stanford University, and is currently plotting her return to the Pacific Northwest and working on her next novel. For more information, visit www.KelseyJosund.com.
Tickets: https://bit.ly/2RmBjmb
Follow Kelsey (trust us, you know you want to!)